Staci, one of the leaders in picking logistics since 1989, offers tailor-made solutions to meet the needs of its customers, whether in BtoB, BtoC, DtoC, or e-commerce distribution. We spoke to Thomas Mortier, Chairman of Staci, about multi-channel, Staci's differentiation, and one of its major assets: its teams!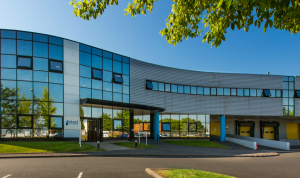 How is Staci positioned today in the management of multi-supplier, multi-customer and multi-product logistics flows?
Thomas Mortier: Staci has developed unrivaled expertise in logistics flow management thanks to our 78 hubs in Europe and the United States. Our approach is based on the pooling of resources and assets, combined with a continuous innovation plan. This enables us to create real value for our customers by optimizing their supply and distribution chains. With 78 warehouses and operations in 8 countries, we can deploy proven solutions at scale across our network. All our sites can benefit from the best practices of some of our pioneers and labs. For example, we have just partnered with a start-up in New York that has developed an Al solution for order picking that guarantees a 100% service rate. A camera placed behind the operator checks that the right product, the right quantity, and the right label have been placed in the parcel… This is a huge reassurance for the operator, who knows that he will be alerted if a mistake is made. It's seen as a reassuring and helpful check. To comply with their request, only the hands are filmed and the recordings are not kept after 3 months. This also makes it possible to prove that the order was fulfilled and to guarantee a 100% service rate! This also works for customer solutions. For our client, one of France's leading telephone companies, we have introduced cardboard cut-outs based on a scan of the product to be shipped in order to optimize the size of the parcels… and better manage space. It's also a step forward that we'll be passing on to our other clients. We specialize in helping companies with their domestic and international logistics projects. We deploy dedicated project teams and mobilize the necessary resources to continuously manage and optimize customized logistics solutions. Our aim is to provide our customers with comprehensive expertise and support throughout their logistics projects.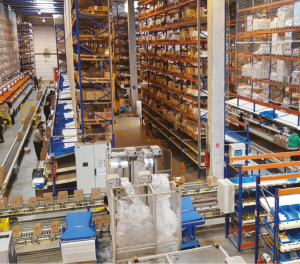 We offer our outsourcing clients peace of mind and guaranteed results!
IN FIGURES
78 logistics sites in Germany, Belgium, Spain, the United States, France, Italy, the Netherlands and the United Kingdom
"What solutions does Staci offer to ensure an agile supply chain and optimal flow management? 
Thomas Mortier: We don't transport, we organise! We are known for our ability to switch flows to another service provider in the event of a rail strike, for example. Our business is the end-to-end system… what varies from one country to another remains the transport and the best contact for a given mission. Our commitment is to deliver results, whatever the type of customer (BtoB, BtoC, DtoC, etc.), whatever the lead time, whatever the weight or volume, we organise the transport. Our strength lies in our very powerful TMS, configured for each customer. We negotiate locally with each carrier. We have more than 400 carriers to offer a truly multi-channel service, and we are able to impose real flexibility on logistics providers: from small parcels or multipacks, to ship from store, to pallets. We can deliver to end users, marketplaces or retail outlets, with all the current constraints of traceability, ever shorter lead times and ever later cut-off times. We also know how to adapt and organise flows that don't pass through our warehouses as direct customer-to-customer flows.
Despite our close relationships with reliable and reputable partners, we regularly audit the quality of service and the level of CSR commitment of our service providers.
You offer complete supply chain outsourcing…  with a focus on e-commerce.
Thomas Mortier: Yes, we offer customizable integrated solutions for every stage of the supply chain, from warehousing to order fulfilment, including transport and reverse logistics. Whatever the products to be distributed or the customers to be served, our solutions ensure optimal management of physical, financial and information flows. What's more, our innovative digital solutions enable all flows to be managed in real time, giving our customers complete visibility. Whatever the size of their business, our trusted customers enjoy peace of mind and guaranteed results: by outsourcing their logistics, they no longer have to worry about transport! Customers, no matter how small, benefit from our optimized purchasing capacity… we also offer them the comfort of having a single point of contact. If they have a problem, they contact us and we take care of the dispute with the carrier. 
E-commerce is a fast-growing sector, and Staci is the ideal partner to provide appropriate logistics solutions. We offer broad geographical coverage, powerful digital solutions and tailored logistics tools to provide the agility and efficiency required by manufacturers, e-tailers, marketplaces and retailers. Our goal is to ensure an innovative e-commerce supply chain that meets the specific needs of each customer.
Last mile logistics is often seen as a challenge. How does Staci meet this challenge?
Thomas Mortier: Last mile logistics is a critical link in the supply chain. We have developed several services dedicated to this complex discipline. From urgent deliveries to overnight transport, from delivery before 8 a.m. to sustainable transport solutions, we are doing everything we can to guarantee logistical excellence and environmentally responsible in the last mile. Our aim is to adapt our services to the specific constraints of each network, reducing the number of kilometres travelled and ensuring accurate, controlled delivery.
How does Staci contribute to the success of its customers' marketing and communication campaigns? 
Thomas Mortier: We understand the importance of brand image in the field and the need to meet delivery deadlines for marketing and promotional materials. We offer tailor-made logistics for the management of these media, such as POS, theatrical displays, samples, flyers and many others. Thanks to our expertise, our customers benefit from on-time delivery, ensuring that their marketing and communications campaigns run smoothly.
Can you tell us about the partnership between Staci and GLS France in the field of sustainable transport? 
Thomas Mortier: We are very pleased with our partnership with GLS France in the field of electric transport. We recently carried out a full-scale electric transport test with an e-tractor from Volvo Trucks France. The test was a great success and we are well on our way to offering our customers more sustainable transport solutions. We are grateful to our partner GLS France for their commitment to this initiative.
How do you differentiate yourself in a highly competitive environment?
Thomas Mortier: The real difference in our model is our skills and human resources: we have an internal promotion system. It's not unusual for a site manager to have started at Staci as an intern or temporary worker! We now have more than 60 associate managers, and for a logistics company we're unusual in that nobody works for us! As a result, we have very low staff turnover and our teams are really engaged in the field. We've never had to close a warehouse, neither during the Covid-19 health crisis nor this year during the social crisis linked to the pension reform.
You are known for your commitment to gender equality. Could you tell us more about that? 
Thomas Mortier: Staci is very committed to gender equality, as almost 50% of our employees are women. We take a number of steps to promote equality, such as eliminating pay and promotion gaps, training programmes to develop skills and our participation in the <<Elles bougent» association. We also encourage young women to choose technical careers.
What information system do you use at Staci? 
Thomas Mortier: We fully own our IT system, which runs on an Oracle database, the most popular and stable on the market. As soon as a customer identifies a need for new functionality, we develop it and make it available to everyone! Every month there is a new release that benefits all our partners. It's one of the reasons we've been growing for over 30 years! 
FOCUS ON THE LAST MILE

STACI STRENGTHENS ITS LAST-MILE LOGISTICS BY INTEGRATING LM2S



The merger between Staci and LM2S consolidates last-mile logistics. LM2S, a specialist in last-mile spare parts, is now part of Staci. Specialising in B2B and B2C retail logistics, D2C and e-commerce for private groups and the public sector, Staci offers logistics solutions for products with or without barcodes. With the acquisition of LM2S, Staci expands its offer in the management and activity of spare parts, increasing its network to 250 depots and warehouses throughout France. The company now offers a complete range of local, urgent, overnight and last mile delivery services.





The expansion of LM2S's services, in particular through the development of a transport plan that guarantees the delivery of spare parts on D+1 before 8am throughout France, with extremely high service rates for its PUDO (Pick-Up, Drop-Off) network, was a decisive factor in this integration. This merger was considered a natural and strategic choice when LM2S was sold by its partners.





This merger between Staci and LM2S strengthens Staci's capabilities in last mile logistics by combining the expertise and resources of both companies. It will enable Staci to offer its customers a complete solution for their spare parts delivery needs, with extended geographical coverage and services tailored to the speed and reliability constraints specific to this sector. With this integration, Staci confirms its position as a trusted logistics partner able to meet the specific challenges of the last mile in a wide range of business sectors.